November 2022
The Airbnb alternatives worth considering for your property
When it comes to vacation rentals, Airbnb is a household name – a trusted platform used by travellers around the world. But the industry is constantly changing and growing, with a range of Airbnb alternatives competing for the attention of holidaymakers.
To give you some idea of the rivalry – even a destination like Ulaanbaatar (the capital of Mongolia) – has more than 10 vacation rental websites vying for the tourist dollar.
What does this mean for Airbnb hosts? You need to make sure you understand the main booking platforms available and Airbnb alternatives to travellers and consider advertising on a range of them in order to maximise your bookings.
[bctt tweet="Even a destination like Ulaanbaatar has over 10 vacation rental websites vying for tourist dollars" username="GuestReadyNow"]
1. TripAdvisor
It's the world's longest-running and most trusted online travel community with over 500 million reviews on its website – a site which attracts 390 million users every month.
What you might not know is TripAdvisor is a major player in the vacation rental market. It has 830,000 homes listed in 190 countries – ranging from tree houses in isolated forests to houseboats in city canals.
Like most holiday rental sites, TripAdvisor features reviews of its private apartments and villas but what adds value to this is the fact that travellers can also access reviews of the attractions, activities, restaurants, clubs and bars found in the vicinity of the property – all on the one website – as well as book flights and car hire.
TripAdvisor boasts that holidaymakers can "plan their whole trip in one place".

2. FlipKey
When hosts list their property with FlipKey they have the added benefit of appearing in searches on TripAdvisor for no extra charge due to the companies being part of the same network.
The FlipKey website is very easy to navigate and specialises in private holiday homes for rent – with a particular focus on the USA.
3. Expedia
One of the world's leading full-service online travel brands, Expedia prides itself on helping travellers plan and book all aspects of their holiday – from transport to accommodation.
Users can select "Private Holiday Home" when they are searching for a place to stay in a particular city and then browse the available vacation rentals.
4. HomeAway
Considered the biggest direct competitor to Airbnb, HomeAway is a social marketplace where "guests" can locate and book cool places owned by "hosts".
This Expedia-owned company has an impressive list of more than two million properties – from luxury villas to lazy-stay lofts – in 190 countries – with photos and reviews to entice potential guests.

5. VRBO
This company, which is part of the HomeAway group, has been a pioneer of the VR industry and has over 1 million homes on offer across the globe – from log cabins in Alaska to penthouse apartments in Sydney.
Like similar sites, VRBO offers property descriptions, photos, secure messaging between host and guest – as well as home reviews. It also promises exposure to 44 million travellers a month thanks to an international network of 50 sites including three of the top vacation rental sites in the USA.
6. Flat4Day
This network of vacation rentals (also part of the HomeAway group) focuses on connecting international travellers with villas, apartments and private rooms in 71 countries across Europe, Turkey and the Middle East.
7. Holiday Lettings
Looking for a castle holiday in Cornwall or to spend the summer in an old cottage in Yorkshire? Holiday Lettings is a British company that specialises in unique accommodation in the UK.
It also offers English travellers the chance to stay in private homes outside of the UK thanks to 600,000 listings across 150 countries.
8. Wimdu
Focusing on private holiday homes in Europe, but featuring properties across the globe – Wimdu is the platform that travellers use when they're searching for a funky apartment in Barcelona or a chic studio in Paris.
Hosts can list their properties for free and the website offers over 350,000 places to stay and has over one million registered users. They have been expanding into Asia and North America.

9. Tujia
It should come as no surprise that the Chinese are the world's "top spenders" when it comes to tourism. The middle class is travelling now more than ever and the younger generation is turning its back on package tours and opting for more unique travel experiences…which is why companies like Tujia are doing so well.
Airbnb's Chinese rival, Tujia, is one of the biggest platforms for Chinese property owners wanting to make money from renting their homes to holidaymakers.
It has 400,000 listings plus another 300,000 on its low-cost platform Mayi, as well as more listings that have been acquired from travel giant Ctrip. It seems certain that this platform will "go global".
It has already begun to move into the vacation rental market in Japan, Southeast Asia and South Korea – all popular destinations for Chinese tourists.
10. GuestReady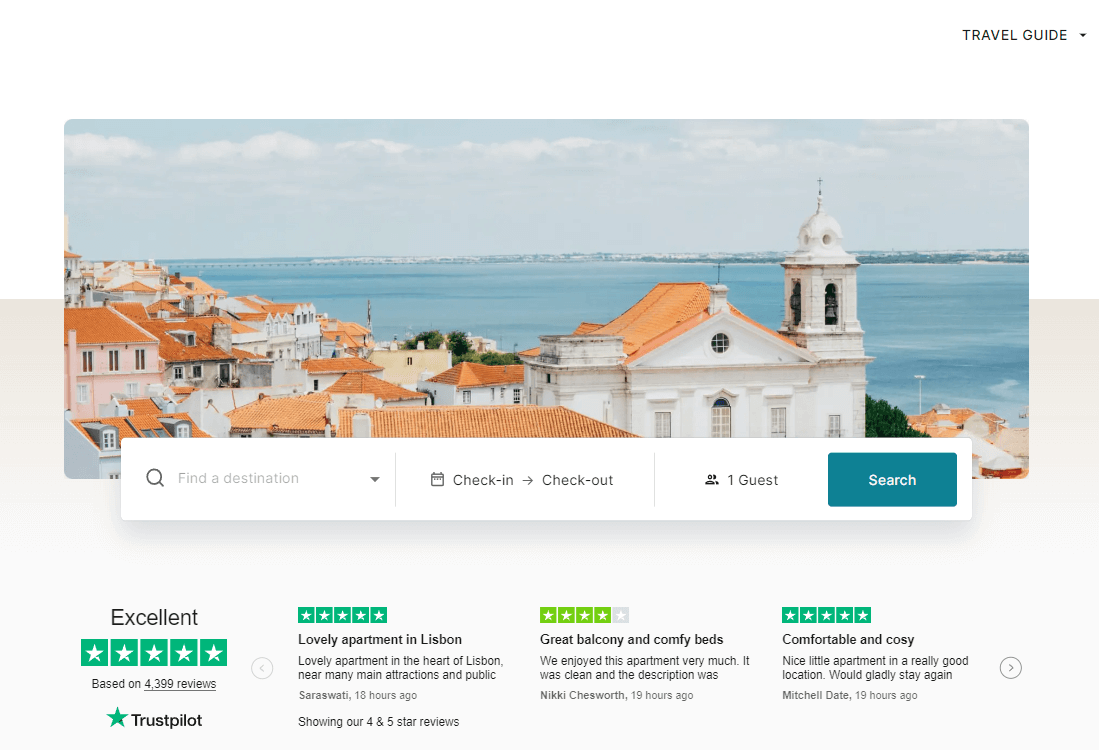 Feeling a little overwhelmed about what platforms to use when marketing your Airbnb property? It's our job at GuestReady to stay across the latest industry developments and help our clients position their homes to get the most online exposure possible.
That's why we launched a renewed booking website, made from our own portfolio of properties that delight our guests with hotel-quality stays and help hosts by delivering the most professional home rental services.
In addition to managing your listing, we carefully select the services that best fit your property for maximum exposure.
Interested in our short-term rental management services? Let us know.