June 2022
How to write an awesome description for your Airbnb listing
How to write a good Airbnb description? Listing descriptions may not be the number one aspect that captures a potential guest's attention (that would be the pictures), but descriptions are the ones that hammer home the reasons why they should book your apartment.
If you've captured their interest with your pictures and title and they've read through your description, they are probably seriously considering booking your place.
You may need to keep writing brevity in mind but don't forget – the devil is in the details.  So, below are some factors that you need to keep note of to make sure that potential guest reading your listing description closes the deal!
Airbnb description tips.
Table of Contents
1. Answer their questions before they ask
Your description has to pre-emptively answer any questions they might have and overcome any objection they might give. This way, you'll surely get more bookings.
Some examples of guest questions are:
How far is your apartment from the nearest train station or bus stop?

Is there a mall near the vicinity to buy any essentials?

What kind of beds do you have in your rooms? (so they can fairly estimate how many people the place can accommodate)

Can they bring pets into your apartment?

If guests are planning a house party, what do they need to keep note of? (e.g. noise level, condo rules, house rules for parties, etc.)
When you answer questions like the above mentioned, try to give clear details because these will directly affect your guest's stay. Answer honestly too; you don't want to give the guests a surprise that might not align with their plans.
2. Know who you are talking to
Who is your target Audience?
As a host, you know your place the best; and therefore, you understand which type of Airbnb guest would most likely be interested in booking it or which type of Airbnb guest would fit it most.
For example, if you are renting out an entire apartment that could accommodate more than a handful of guests – and we recommend that you do so because this automatically makes it more likeable to potential guests – then you need to position it that directly appeals to you larger groups of friends or families since they would naturally want to stick together.
Or, if you only have a studio apartment, maybe backpackers would be more your target audience.
When you are located in a more culturally vibrant area of town; in this case, you might want to show-off that aspect fully to get those travellers who are more into immersing themselves into a new culture and breaking free (for the meantime) from their everyday home lives.
If your apartment enjoys a central location, you may well cater to many different kinds such as those who have extensive itineraries around town or business travellers.
3. Show your best side
Mention the features of your home as succinctly as possible and make sure to add some unique selling points too – front and center. Make sure to answer questions like:
What makes your place stand out?

What's great about your amenities?

How would guests be comfortable staying at your apartment?

What about your location?
Small tip: you can elaborate more on the location (e.g. near bars/ restaurants, easy transportation, a few minutes' walk away to a tourist site, etc.) since that's usually a big factor for travellers.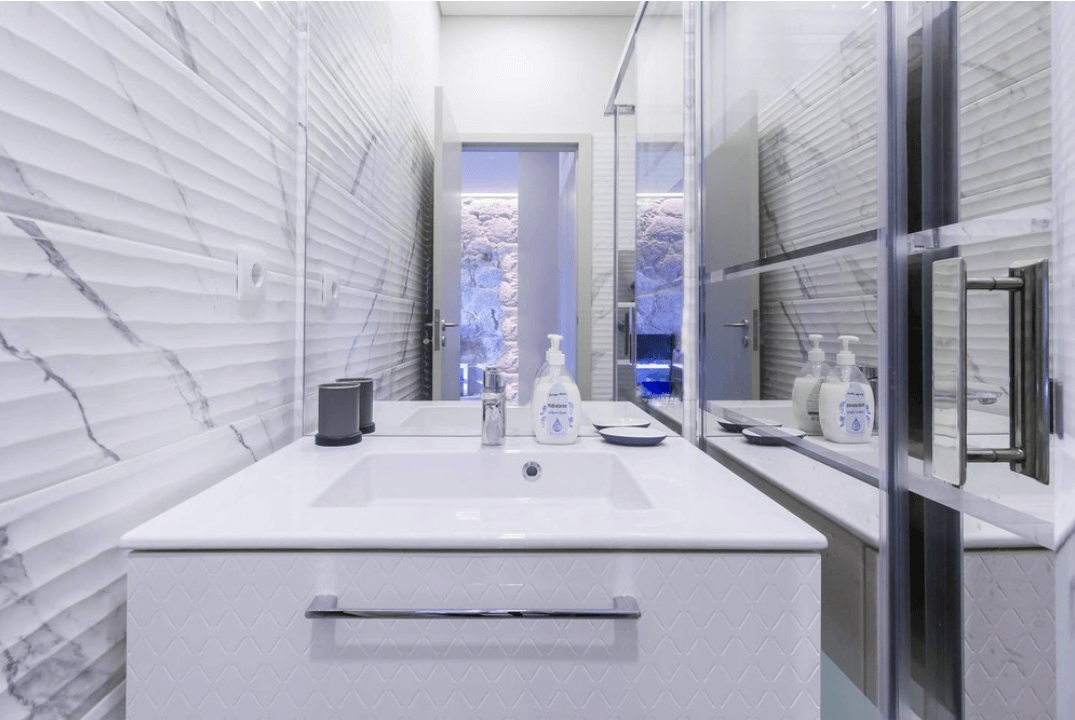 4. Describe the space
Give some details of your space. Imagine you are a guest and you are seeing your place for the first time – try to describe the style, the condition, the noise, etc. But make sure that you tailor your pitch to attract the type of guests you'd like to host or those who would be most interested in your apartment. For example:
For business travelers, you can add in aspects about super fast and reliable wi-fi connection, a comfortable office desk/chair to work on, easy accessibility to the central business district, quiet neighborhood for productive work sessions, etc. If you want to attract more business travellers, find out how to make your Airbnb 'Business Travel Ready'.

For families, you can tell them about the amenities that are friendly for kids, cozy living areas for families to bond, condo amenities that your kids can use, etc
5. Details matter
Details help in the guest's decision-making process.
Walk your guests throughout your apartment and give them an idea of what to expect in each of the rooms – what kind of beds, how comfortable, is there TV in the room, how many showers, is there a balcony, how many people can the dining table sit, etc.
Next, you should add in details about amenities in and out of your apartment – extra towels, is there a hairdryer, house slippers, other toiletries, is there a gym in your condo, what about a pool, BBQ area, lounge area, jacuzzi, etc. Go ahead and add in any of these features that you think will be interesting for the type of guests that you are trying to target.
6. Unique extras
If you feel the need to up the ante because of tough competitors in your area, then you need to go the extra mile to stand out. Highlight unique areas and offerings of your listings that will enhance your guest's overall experience.
Some perks that are relatively cheap and will help you attract more inquiries are:
Transportation cards to help your guests go around

Free iPhone usage when some guests need a local line to get by

A bike to get around bike-friendly cities (although you can definitely charge a little something for bike rentals)

Putting out new games on your Playstation or Xbox that your guests can use while lounging in your apartment

Making sure your fridge or pantry is well stocked with snacks or chips

If your bathtub plus some fragrance oils or soaps, write that down for the perfect R&R night
7. Call to action
Lastly, a very important and useful step that you don't commonly see on Airbnb listing descriptions, a call to action for potential lookers.
When a guest has read through your listing description til the end, it means that they are interested in booking it. You can add in some closing lines that encourages them to send you an inquiry before moving on to the next listing.
Here are some examples that you can play with:
'Calendar for the next few months have been filling in quite fast. Be sure to send me a message to guarantee a reservation.'

'I'm always looking forward to hosting great people so I'll be waiting for an inquiry from you and we can start discussing some more details from there.'

'Don't worry if you're traveling on a budget. Send me a message and maybe we can strike a deal that we'll both be happy with.'
"Call to actions in Airbnb description texts are not commonly used, yet can make a big difference!" GuestReady
You know your place better than anyone so you'll surely be able to show its best side more accurately than anyone else.
There are definitely other factors that determine whether you bank those bookings but the listing description (one that answers all the WHYs and most other guest questions) certainly serves as a backbone that glues all information together. Spend some time on it and tweak it whenever you see fit.
8. Get GuestReady to help you
We get it – there is so much to keep in mind when it comes to writing an Airbnb listing description that converts. At GuestReady, we've written hundreds of high-converting descriptions already, and we're happy to help you manage your Airbnb listing better. We're currently in Paris, Edinburgh, London, Hong Kong… Get in touch!