December 2022
Airbnb luggage drop off: 4 ways hosts can deal with this classic problem
It's the question every Airbnb host gets asked at some point…
"Where can I leave my bags?"
"Can I leave my stuff with you before I check-in? How about after check-out?"
No visitor likes lugging their bags around. Dragging luggage can ruin the start or end of your trip, but it need not be this way.
As an Airbnb host, if you can sort this out in advance, it's a great way to win points with your guests and secure a good review. It's the perfect opportunity to go the extra mile and solve a problem that guests hate. Dragging bags around can totally ruin the start or end of your visit!
So what to do with luggage after check in or check out an Airbnb?
These are the 4 options available that you can organise for your guests or direct them to use.
1. Station Lockers
In most city train stations, there are lockers that can store your bags. These range from relatively affordable to ludicrously expensive — in London, the stations charge £12.50 for 24 hours! Be prepared to queue, especially on weekends or holidays!
2. Sharing Economy Solutions
In many European countries there are new sharing economy services available to help. Google is your best source here.
In London and the UK, CityStasher is the pioneer of sharing economy luggage storage. They connect you with local shops and hotels for a very reasonable price.
In Spain, Keepiz will help you find local businesses. Other countries may have similar services, although many are new startups, so check reviews before you direct your guests to use them.
An advantage of these businesses is their convenience — booking can be done for your guests online.
They also have many locations spread out across cities, meaning potentially you can find storage right around the corner from your Airbnb!
If you are going to do this regularly, these businesses may offer coupon codes for repeat use — contact them to find out.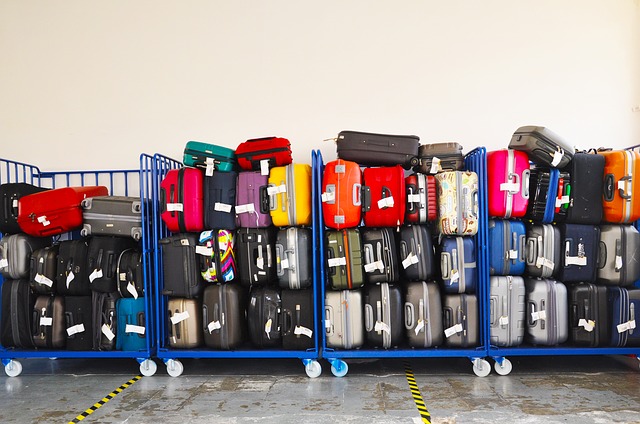 3. Free Options
It is sometimes possible to leave bags with museums, galleries or shopping centres. This can be for free or for a small charge.
However these services are only intended to store your bags during your visit in the venue and you will likely be refused if you try to use these services as a left-luggage service.
You can find out by checking with local venues and asking them!
4. Just Store It
If none of these are available, the last resort is just to store the bags in your Airbnb.
This won't be a problem if you have a flexible schedule. But for many people, you may need to arrange with spouses or flatmates to be in to accommodate this.
A possibility — if your Airbnb permits — is to set aside an area (a garage, annex or spare room) for storage that your guests can use without needing to run off with your keys.
Another way to deal with this issue is to use key-drop services, so your guests can drop their keys somewhere secure after they collect their luggage.
This could work really well if you aren't around to let them in or out, and it means your keys get left somewhere secure for you to collect later.
Services like Keynest exist in London and the UK to help deal with this issue, and there are many similar alternatives.
If you don't have an answer ready for this question, you are condemning your guests to a day of dragging their stuff around with them before they travel off again. Nobody appreciates that.
But if you can sort out options for them in advance — and if you can organise a solution that is good value — your guests will be guaranteed to really appreciate it!
Need help? We are one click away.