July 2023
London travel tips: 10 ideas for your Airbnb guests
Big Ben, Buckingham Palace, the London Eye… there are plenty of famous landmarks dotted around the UK capital but often Airbnb guests will want London travel tips from hosts about things to see and do that are off the beaten track. By providing your guests with insider knowledge you are helping them have a more authentic travel experience – as well as increasing your chances of getting a good review.
Need some inspiration to pass on to guests? We have put together a list of ten quirky and fun things to do around London.
1. The seven noses of Soho
What better way to see some of London's sights than to go on a treasure hunt for….noses? Back in 1997, artist Rick Buckley created 35 plaster of Paris's noses and installed them on the sides of buildings such as the National Gallery and Tate Britain.
These days there are only seven snouts left and they continue to provide a source of amusement and intrigue to tourists and locals alike. Rumour has it that if you spot all seven noses you will be guaranteed to run into wealth!
Searching for a stay in London?
2. Wilton's music hall
Shabby and charming, Wilton's is said to be the oldest music hall in the world. It was founded in 1743 as a place where sea captains drank ale but in 1850 John Wilton bought the business and turned it into a magnificent concert venue full of mirrored hallways, chandeliers and ornate pieces of art on the walls.
It might not be as shiny anymore, but the hall still retains many original features including some impressive cast iron pillars. It's now run as a multi-arts performance space featuring opera, comedy and cabaret. We think the front door alone is worth visiting – with its worn-away wood and peeling paint.
Location: 1 Graces Alley, Whitechapel, London E1 8JB, UK.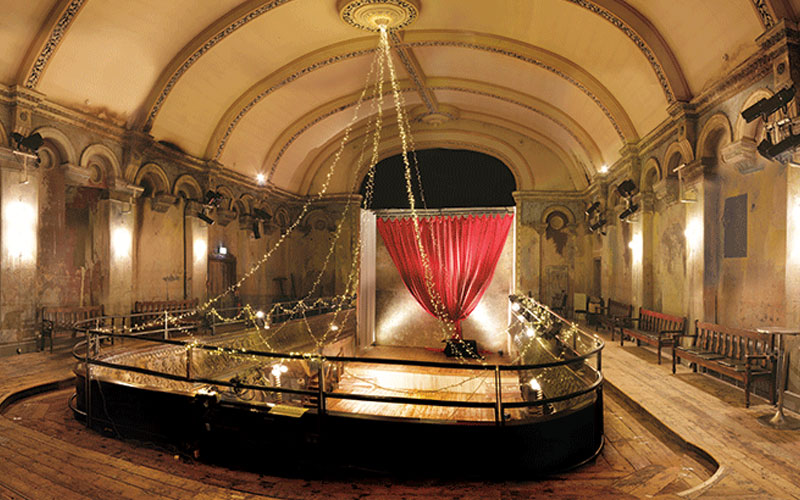 Searching for a stay in London?
3. Little Venice
If you're looking for an interesting place to take a stroll in the summer months, head to London's Little Venice, which truly comes alive with the sunshine and warmer weather.
Here you'll find colourfully decorated houseboats lining the canal as well as tonnes of restaurants, theatres and pubs. You can walk along the riverside to Camden or Regent's Park. Or just sit down in a café and soak up the lively atmosphere.
Searching for a stay in London?
4. Dennis Severs' House
What happens when you take an eccentric American artist and let them turn their London home into a still-life-drama museum? The answer is, Dennis Severs' House. Not content to just fill his home with artworks and beautiful things, Dennis decided that he wanted to create an intimate portrait of the lives of a family of Huguenot silk-weavers from 1724 to the dawn of the 20th Century….as you do?
The result is an extraordinary time capsule, where visitors are invited to lose touch with the outside world. The house features ten rooms – each with its own 'spell' – crammed full of beautiful décor and furniture.
Location: 18 Folgate St, London E1 6BX.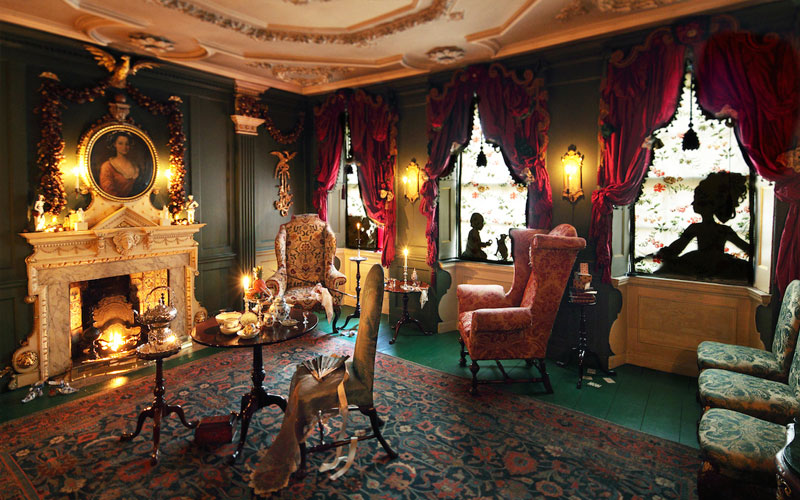 Searching for a stay in London?
5. Queens Wood
Highgate Wood is a popular spot for locals to soak up some green in the big city but just across the road, you'll find an even more tranquil corner of nature where you can go for a walk or sit and enjoy the sounds of birds chirping in the surrounding trees.
The park features undulating pathways that allow you to wander past cherry, oak and beech trees as well as garden beds full of bluebells where you'll find squirrels and other small creatures foraging for food.
Location: 42 Muswell Hill Rd London N10 3JP
Searching for a stay in London?
6. Food and pub tours
One of the easiest ways to immerse yourself in a new culture is by trying the local cuisine and London has no shortage of amazing places to eat, drink and be merry. Whether you're after a traditional pie and mash, or a delightful cream tea – a great way to sample local produce is to book yourself on a food tour (or, if drinking is more your thing, a pub crawl).
There is a range of companies that cater for a variety of budgets – from family-friendly bistro hopping to high society dining experiences.
Searching for a stay in London?
7. Flea markets
Looking for a vintage dress or antique candleholder while you're in London? The city is home to dozens of flea markets where sellers peddle everything under the sun. Jewellery, paintings, second-hand clothing, collectables, books – you'll find London's flea markets open at a variety of locations, mostly on Saturdays and Sundays (although some larger markets open during weekdays).
There are far too many to list but we recommend attending Camden Passage market for antiques, Old Spitalfields market on rainy days due to the welcome roof over the stalls, and Brick Lane market for eclectic wonders.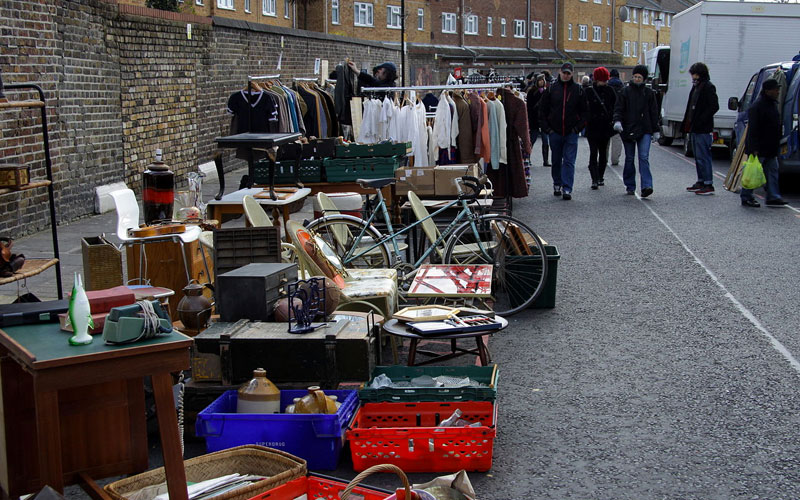 Searching for a stay in London?
8. Exhibition Road
The city of London is very kind when it comes to sharing its museum and art gallery treasures with tourists. Many of the largest attractions are free to the public.
Head to Exhibition Road if you're keen on some culture – where you'll find the Tate Britain and Tate Modern museums as well as the National Gallery, Portrait Gallery and Natural History Museum.
Searching for a stay in London?
9. London Zoo
One of the quirkier things on offer in the city of London is the opportunity for you and your family to sleep next to a lion enclosure at London Zoo. Always keen to find new ways to get the public inspired about wildlife, the Zoo has created an after-dark package that allows guests to go behind the scenes as well as stay in a themed lodge next to the slumbering big cats.
Searching for a stay in London?
10. The Thames Path
It might be one of the more iconic features of London but the Thames also has a few hidden gems that are tucked away on a 40-mile-long walking track known as the Thames Path. There are bicycles for hire along the trail which will take you past the charming village of Rotherhithe as well as Charles Dicken's favourite pub, The Prospect of Whitby. We recommend going at sunset or early in the morning to capture the best photos and light along the waterway.

Need a hand to create an inspiring London travel tips' guide for your guests? Our London team at GuestReady are experts at advising hosts on how to impress guests and make them feel welcome when they arrive.